HEAD BOLT TORQUE SPECS
1993 Toyota Pickup • 125,000 miles
I am installing a new cylinder head on a 1993 toyota pickup 2.4L and need to know the tourque spec procedure and tightening sequence for the head bolts. Can you please help me with this. Also if you have a timing chain diagram that would also be helpful.
---
1 Place the rocker arm assembly over the dowels on the cylinder head.
2 Install and tighten the head bolts gradually in 3 passes in the sequence shown.
3 Torque the bolts on the final pass.
Torque:58 ft.lbs. (800 kgf.cm, 78 Nm)
The sequence is to start at the middle and work toward the ends while alternating sides.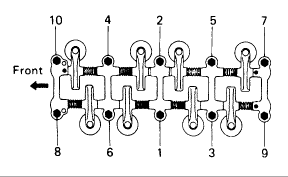 ---