REMOVAL CENTER CONSOLE SHIFTER ASSY
2012 Ford Explorer
How do I remove the center console on my 2012 Ford Explorer
---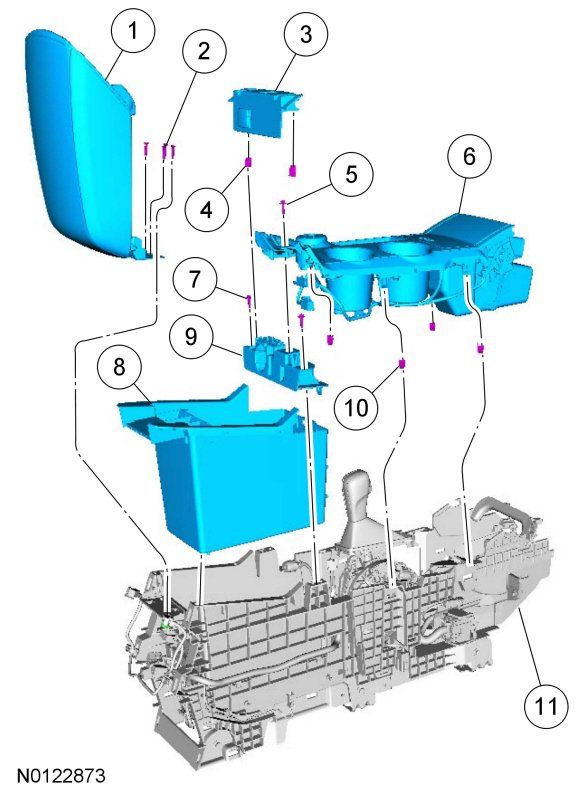 Removal
Apply the parking brake.
Place the selector lever to the full rearward position.
Position the front seats fully rearward and fully reclined.
Remove the LH (Left Hand) and the RH (Right Hand) front floor console side trim panels.
Pull outward to release the retainers.
Disconnect the shifter cable from the selector lever.
Disconnect the front floor console bulkhead electrical connector, the USB (Universal Serial Bus) cable and if equipped, the 110V power outlet connector from the side of the console.
Detach the LH (Left Hand) and the RH (Right Hand) carpet push pins from the front floor console.
Remove the 8 console bolts.
To install, tighten to 5.4 Nm (48 lb-in).
Remove the floor console.
Step 1
Remove tissue box-coin holder
Step 2
remove the cubbyhole compartment by pulling up and toward you
Step 3
remove cup holder piece
Step 4
Remove 2-8mm bolts
loosen the 10mm connector retaining bolt.
Disconnect this connector and route up under the heater controls to move it out of the way temporarily.
Step 5
Remove 2-8mm bolts in the console. These are threaded into the transmission hump
Step 6
use a wood block against the metal bracket, and hit hard with a hammer toward rear until the console moves back about 2 inches. Note how the rear legs ( or feet ) go under metal tabs in the hump for re assembly
To help a stubborn one get out-
If you look real close--at the bottom edge of the console toward the rear is a small cut out--raised edges area. You can get a screwdriver up in there and press upwards on the release tabs, then push the console back toward rear of truck.
Installation is reverse of removal.
---
What to do if your brake pedal goes to the floor