TACHOMETER NOT RESPONDING PROPERLY
1995 Ford Ranger
Electrical problem
1995 Ford Ranger 4 cyl Two Wheel Drive Manual 200000 miles

I own a 1995 Ford Ranger and recently replaced the old instrument cluster (no tach) with a fully functional cluster from a 2001 Ford Sport Trac (with tach).

The cluster is completely compatible and has no issues, except for the fact that the tach acts sluggish and weak.

I would like to know what all is involved in the tachometer receiving its signal and how can I troubleshoot the issue? Its worth mentioning that before replacing the original instrument cluster, I did have a check engine light, and the speedometer did not function. After replacing the VSS the check engine light went off but the speedometer did not function. I assumed the cluster was bad, but could the speedo cable be bad as well? Does this electric cable have any effect on the tachometer?
---
Hello and thanks for donating

a slow and sluggish tachometer is normally due to faulty grounding of the tach. Since the original cluster didn't have a tach, there is no ground being presented at the cluster for a tach. An easy way to check is just get a loose piece of wire and ground it good to a bolt or something in the cab of truck, then wire it to the tach. If it works fine then you need to run a good permanent ground.

The speedo cable does not affect tachs, the tach is electronic while the speedo is manually driven by cable.
I'm going to try the ground wire. You wouldnt happen to know which wire in which connector it is? Or have a wiring diagram you could share?

My speedometer uses the VSS sensor connected to the wiring harness. What exactly does the Tach use to receive its signal? Thanks.
The tach circuit terminal connector ground pin is pictured below.. The tach uses the ignition coil to get its signal..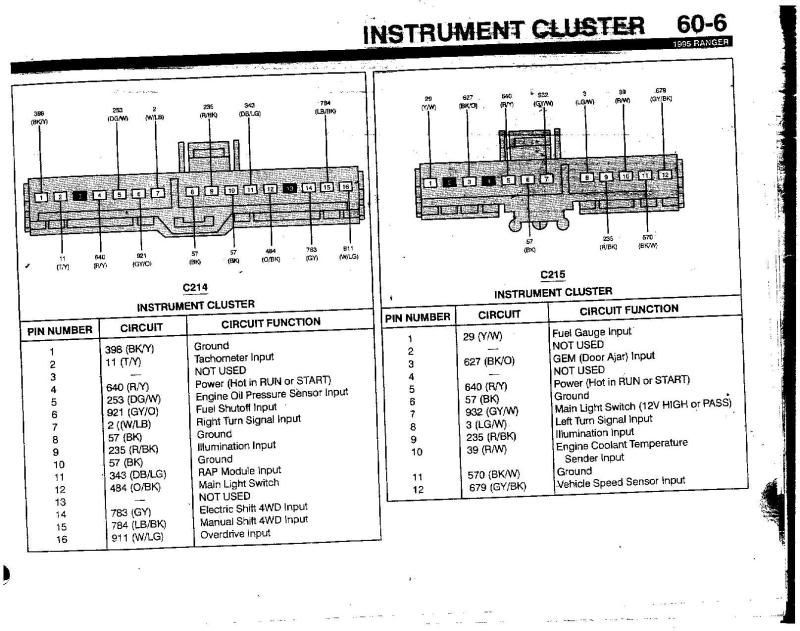 The above is the wiring harness for the instrument cluster of the 1995 Ford Ranger (my vehicle).
Would you happen to have the same for a 2001 Ford Sport Trac? That would allow me to figure out which pin needs the grounding wire of my 95 harness. Thank you.
Is there anyway you can send the complete blown up image to my email? Its too small to make heads or tails of on this forum.

Arowzee@gmail. Com
Yes, email sent, sorry about that.
---