DODGE NEON FUEL INJECTOR PROBLEM
2003 Dodge Neon • 110,567 miles
My car runs but the fuel injector 3 those not work after I change the head gasket check all the wire on it an their is no cut wires check conections and still not pulsing can the pcm be damage
---
What's missing power supply or pulse?
I am sorry the fuel injector it was stock on like spraying all the time constenle and it did not pulse I change the injector and it stop working I put it in another injector and it those work so I check the volts coming and it reads 13 and it moves just a little and the other ones have like 13volts but they pulse from 13 to like12.56 volts I took the car to the dealer and they toll me to check for pinch wire I took the car home check all the wires I found one pinch wire fix it and still the same so I was thinking it was a pcm problem
You need to test that signal at the plug using a noid light. The computer pulses the ground signal but you can damage the computer if you test it with anything else.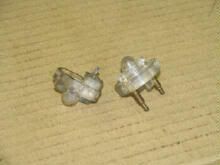 Where can I get noid light is that like a fuse checker thing
Most any tool supplier carries them. They are sold either is set for various makes or sold individually for less than $10.
---