REPLACED NUMERIOUS PARTS AND STILL WILL NOT START FROM INSIDE
1994 Ford Ranger • 2.3L 4 cylinder RWD Manual •
I have replaced a starter, battery cables, voltage regulator, ignition lock cylinder. Some one had suggested that I might have to replace the ignition switch now my question is where is it located?
---
Instead of just throwing parts at it, which will get you nowhere, why don't you do some testing to find out where your problem is.
Here is the diagram you will need to do that.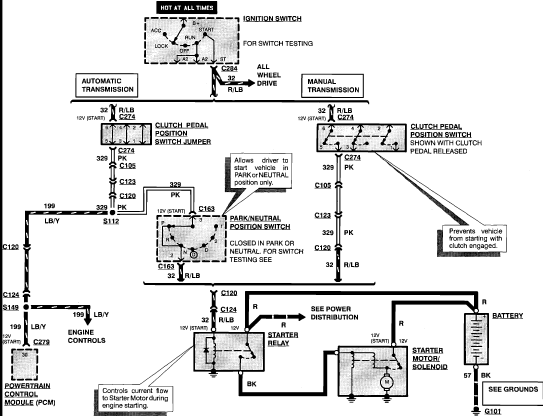 Maybe there was a miscommunication here but I have no tester to begin with had I had one I would not have spent 200 in parts just to fix it, just like if I had the repair manual I would not be on this site asking a simple question. Now for my simple question so once I do get a tester I can test it. Where is the ignition switch located in my 1994 Ford Ranger XLT club cab with a 2.3L 4 cyl engine and 5 speed standard transmission?
It's mounted on top of the steering column.
---